Pixel LED strip
Pixel LED strip problems and solutions
Q: What is the pixel LED strips?
A: Pixel LED strips are made of 3 parts: PCB, LED and driver IC. It allows you to control LEDs individually by sofware. Usually 1pcs of IC drives 1 or 1 group of LEDs as 1 pixel.
Q: What is the driver IC?
A: IC is a integrated Chipset, usually it has 3 channels of PWM output-pin. Popular IC type: LPD6803, ws2801, LPD8806, ws2811/ws2812b, TM1803/TM1804/TM1809/TM1812, UCS1903/UCS2903/UCS512, etc.
Q: What is the popular software?
A: ledEdit2014, Arduino, raspberry, etc.
Q: Pixel LED strip voltage drop problem?
A: As the PCB thickness limited, voltage will reduce with the length adding, and the brightness of LEDs will become dark, especially when full wihte emitting. We suggest to feed LED strip from both ends and length no more than 5 meters, like this: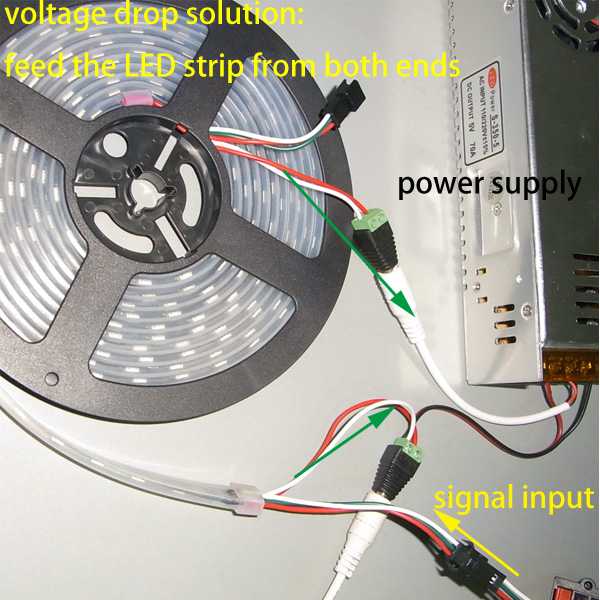 Q: Pixel LED string voltage drop problem?